First NeuroMat Young Researchers Workshop: a kickoff for renewed collaborations in Neuromathematics
May 28, 2015
See the photo album from this event here.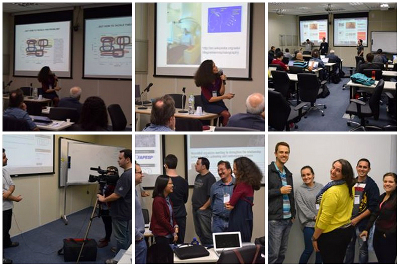 The Research, Innovation and Dissemination Center for Neuromathematics (NeuroMat) held the First NeuroMat Young Researchers Workshop in São Paulo, from May 5 to May 7, 2015. According to the Scientific Dissemination coordinator, Antonio Carlos Roque, the event achieved its goals of exchanging knowledge between young and senior researchers, and of preparing young researchers for their future challenges in academic life.
"I think the workshop was a tremendous success. The young researchers delivered good presentations, which were the first ever in English for some of them, and we all could get a broad view of the current NeuroMat activities. The presentations by senior scientists were also excellent, and I think they offered a quite good introduction to everybody on the objectives and approach of NeuroMat."
According to Michelle Miranda, a NeuroMat postdoctoral fellow, the event was a "great opportunity" for young researchers, like her, to interact with members from various areas of science, such as Neurobiology, Physiology, Mathematics, Probability, Statistics, that are part of NeuroMat. "After attending the talks, asking questions and chatting during the break time, we have new collaborations that have a good chance of taking off. Now we just need to keep up the discussions initiated during the meeting and merge the different ideas and approaches into a concrete plan of work", says Miranda.
Wiki-Neuromathematics
The First NeuroMat Young Researchers Workshop hosted an "edit-a-thon" on Neuromathematics, on May 5 and 6. An "edit-a-thon," as defined on the global encyclopedia Wikipedia, is "an event where editors get together to edit and improve a specific topic or type of content, typically including basic editing training for new editors," thus being a "portmanteau of 'edit' and 'marathon'." This event was facilitated by Célio Costa Filho and Rafael Moretti, from the Brazilian Wikimedia User Group, and a short description and assessment may be found here (in Portuguese).
During the edit-a-thon, attendees of the workshop organized groups and worked on specific entries in the Portuguese version of Wikipedia, such as "Neuromatemática", "Somatotopia", "Função densidade" and "Cadeias estocásticas com memória de alcance variável".
A training on Wikipedia editing was provided during the workshop, and each attendee was given an issue of the newly released "Wikipédia, de A a Z," an introduction to Wikipedia and other wiki platforms, available here.
In the opinion of Roque, "the Wikipedia sessions were instructive, and funny at moments, and gave the hope that this important tool will be used more effectively by NeuroMat participants". The "edit-a-thon" involved young and senior NeuroMat researchers, including NeuroMat's co-principal investigator Pablo Ferrari.
Furthermore, the NeuroMat scientific dissemination team has been working actively on strategies to include Wikimedia and other technologies associated with the Wikimedia Foundation as part of its day-to-day activities. This initiative has been identified as a means of widening access to and interest in the scientific results that the NeuroMat research team sparks as well as bridging scientists and broad audience. The use of Wikipedia as a tool of scientific dissemination has been described as a "call to duty" here.
About NeuroMat
NeuroMat is hosted by the University of São Paulo and funded by the São Paulo Research Foundation (FAPESP). The workshop occurred at the Auditorium, CCE/DTI building, Av. Prof. Luciano Gualberto, alley 3, 71, at the University of São Paulo, São Paulo, Brazil.
Key facts:
What: First NeuroMat Young Researchers Workshop
When: May 5-7, 9:00AM - 6:00PM (São Paulo time)
Where: Auditorium, CCE/DTI building, Av. Prof. Luciano Gualberto, alley 3, 71, at the University of São Paulo, São Paulo, Brazil
This piece is part of NeuroMat's Newsletter #16. Read more here
Share on Facebook