Putting into discussion a research agenda: an assessment of the workshop on Random Structures in the Brain
Oct 31, 2017
NeuroMat investigator Eva Löcherbach during a NeuroMat
general presentation
(RIDC NeuroMat/Wikimedia Commons)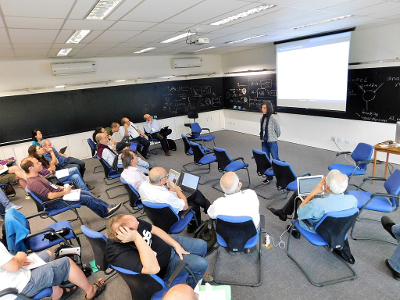 NeuroMat held from October 16 to 20 the workshop "Random Structures in the Brain," that brought together most team members for presentations and discussions on the work the center engages with and for an effort to frame and consolidate directions for the years to come. The workshop was attended by over 60 NeuroMat members, including principal and associate investigators, senior and junior researchers and students. Leonardo Cohen (NIH/NINDS) and Wojciech Szpankowski (Purdue University), from NeuroMat's international advisory board, as well as international guest speakers Markus Diesmann (Research Centre Jüllich) and William Lytton (State University of New York) took part in the event.
A scientific committee from the São Paulo Research Foundation (FAPESP), the funding agency that supports NeuroMat's project, attended a special session on Tuesday in which achievements of the center were presented. This presentation, that is available here, has included the report of activities on NeuroMat's three main areas --research, technology transfer and dissemination--, and is part of the current assessment of the research center by the funding agency.
A short presentation of the workshop, a list of participants and slide presentations are available on the official website. A gallery of images is available on Wikimedia Commons, under a free license.
Framing NeuroMat
NeuroMat investigators Guilherme Ost, Aline Duarte and
Ricardo Fraiman
(RIDC NeuroMat/Wikimedia Commons)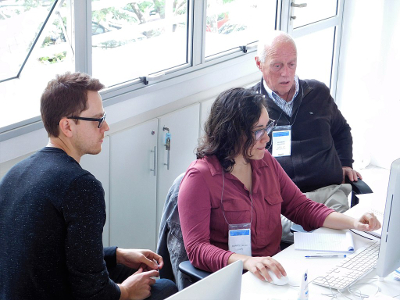 "Random Structures in the Brain" was organized as an opportunity to frame NeuroMat's ongoing efforts in research, technology transfer and dissemination. This framing process has encompassed formulating within the center's interdisciplinary team research questions and agendas to move Neuromathematics forward. Outcomes of this internal process have been the creation of working groups, bringing together senior and junior researchers from diverse fields of expertise. In this context, NeuroMat investigators Daniel Fraiman and Osame Kinouchi have started to write an article during the workshop.
The workshop in October was also the context for the launching of NeuroMat's EEG lab. Data collection associated to the Goalkeeper Game research agenda took place, under the supervision of NeuroMat PI Claudia Domingues Vargas.
The process of framing NeuroMat also involves understanding the contribution of this FAPESP Research, Innovation and Dissemination Center in a global effort pertaining to making sense of brain functioning and neural activity. Members of projects in North America and Europe took part of the workshop in mid October and contributed to putting into perspective what the NeuroMat team has done.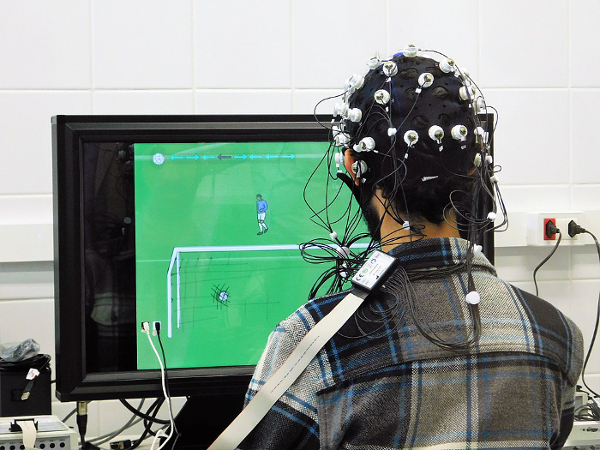 Volunteer in an experiment based on Goalkeeper Game at the newly launched NeuroMat EEG Lab
(RIDC NeuroMat/Wikimedia Commons)
Workshops such as "Random Structures in the Brain" are means of continuing formulation of activity directions and development of working groups. A list of major events NeuroMat has organized since its inception is available on the RIDC website.
This piece is part of NeuroMat's Newsletter #45. Read more here
Share on Facebook