Disorganization of mental activity in psychosis
Apr 20, 2022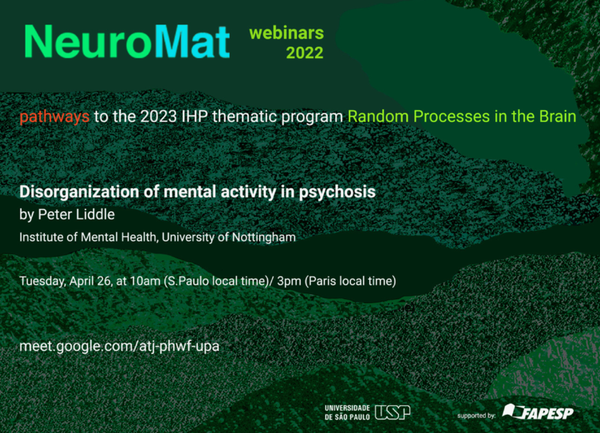 "Disorganization of mental activity in psychosis" is the third seminar in the series Pathways to the 2023 IHP thematic project Random Processes in the Brain.
Title: Disorganization of mental activity in psychosis
Date: 2022-04-26 at 10:00 GMT-3
Link: meet.google.com/atj-phwf-upa
Speaker: Peter Liddle
Affiliation: Institute of Mental Health, University of Nottingham
Abstract: Many patients with psychotic illnesses including schizophrenia, suffer persisting disability despite treatment of delusions and hallucinations with antipsychotic medication. There is substantial evidence that disorganization of mental activity makes a major contribution to persisting disability, by disrupting thought, emotion and behaviour. Evidence suggests that this disorganization involves impaired recruitment of the relevant brain systems required to make sense of sensory input and achieve our goals. There is diminished engagement of relevant brain circuits, together with failure to suppress task-irrelevant brain activity.
We propose that disorganization of mental activity reflects imprecision of the predictive coding that shapes perception and action. The brain generates internal models of the world that are successively updated in light of sensory information. What we perceive is determined by adjusting predictions to minimise discrepancy between prediction and sensory input. Motor actions are controlled by a forward model of the state of brain and body as intended action is executed. Action is continuously adjusted to minimize discrepancy between prediction and sensory input. Disorganization is associated with both imprecise timing and imprecise content of predictions. We need models that incorporate the interactions between excitatory and inhibitory neurons in local circuits with parameters representing long range communication between brain regions to help us understand the pathophysiological mechanism responsible for imprecise predictive coding in psychotic illness.
Share on Facebook