The XXVI Brazilian School of Probability (XXVI Escola Brasileira de Probabilidade) in honor of Professor Antonio Galves, will be held at USP, São Paulo, during the week July 30 – August 5, 2023.
Events |
Dec 01, 2022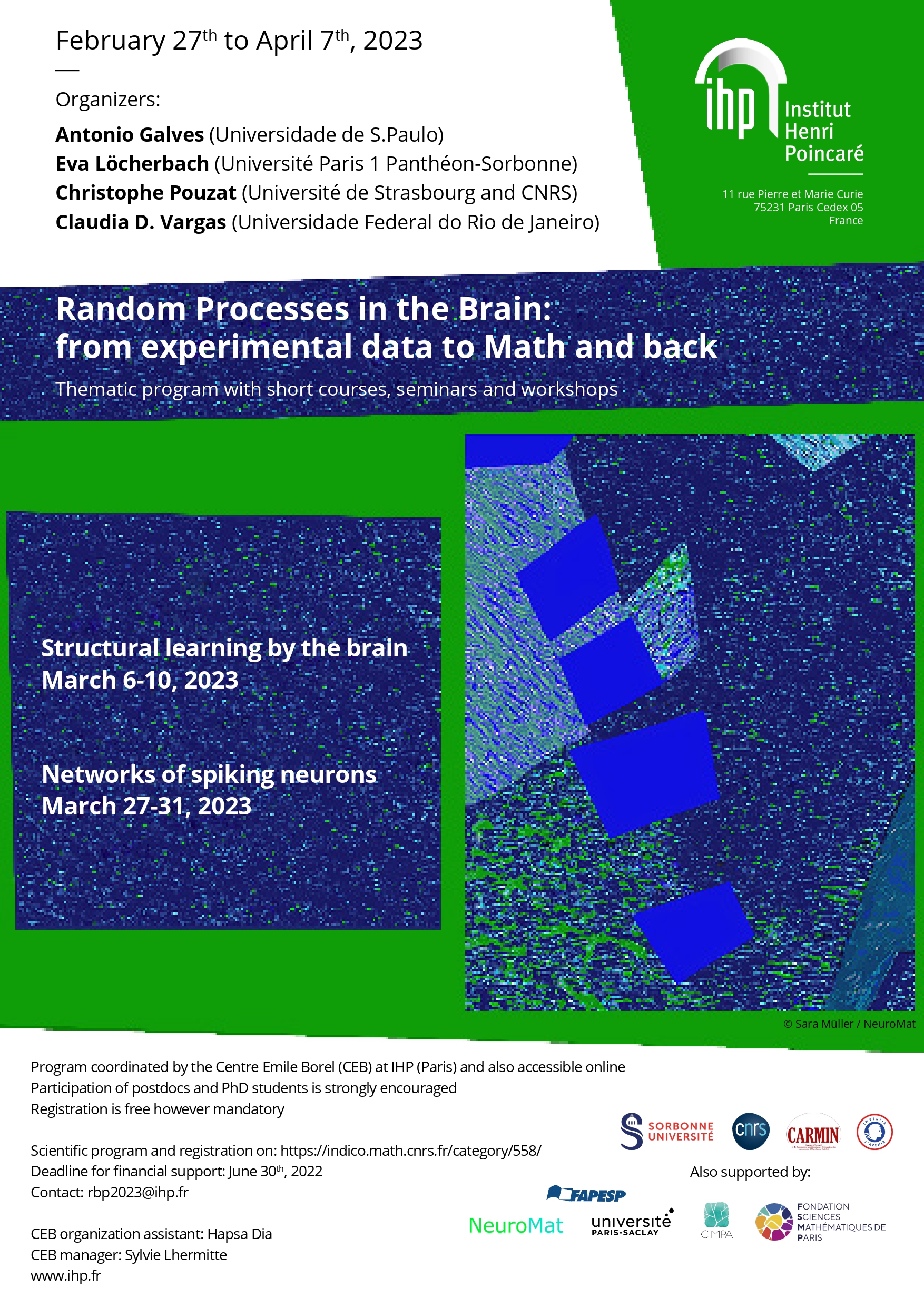 Pathways to the 2023 IHP thematic program Random Processes in the Brain is a preparatory process for the conference "Random Processes in the Brain: From Experimental Data to Math and Back", to be held at the Institut Henri Poincaré, Paris, from February 27 to April 7, 2023. The goal of the preparatory process is to frame and pave research practices among the participants of the IHP thematic program that will eventually emerge during the actual conference in Paris.
Events |
Apr 20, 2020

The Research, Innovation and Dissemination Center for Neuromathematics (RIDC NeuroMat) will hold regular online team-wide seminars to present and discuss research progress. Guests and team members will be included in the program.

Amidst difficulties associated with the COVID-19 pandemics worldwide, in a context in which universities are closed and scientific missions are prohibited, we must do our best to keep scientific life alive. The series of webinars "Mathematics and Neurobiology Intertwined", presented on this page, bears the distinctive feature of bonding efforts and teams to move science forward.
Events |
Nov 21, 2019

The Research, Innovation and Dissemination Center for Neuromathematics (NeuroMat) will hold the "Second NeuroMat Young Researchers Workshop" in São Paulo on November 27. NeuroMat is hosted by the University of São Paulo and funded by the São Paulo Research Foundation (FAPESP). The event's official website is:
neuromat.numec.prp.usp.br/2young
. The aim of this meeting is to get members of the NeuroMat team to know more about each other's research. To do so, every Master/PhD student and Postdoc is invited to give a small presentation (around 25 minutes) about their current work. The meeting will take place at the Multipurpose Auditorium at NeuroMat, Av. Prof. Luciano Gualberto, 1171, at the University of São Paulo, São Paulo, Brazil.