The Research, Innovation and Dissemination Center for Neuromathematics (RIDC NeuroMat) held in January and early February the seventh edition of the Latin American School on Computational Neuroscience. LASCON is a biennial school aiming at introducing advanced undergraduate, graduate students and young researchers, mostly from Latin America, to the use of mathematical and computational methods for modeling neurons and neural networks of the brain. Antonio Carlos Roque da Silva Filho, a NeuroMat co-principal investigator, is at the head of LASCON.
The NeuroMat dissemination team has led an experimental project to produce graphic video representations of papers from the NeuroMat research team. The goal is to experiment a new language for scientific dissemination that both provides an understanding of the research process and contributes to the development of a new line of research on how to represent science. A recent output has been the publication of a video on the article "Reduced functional connectivity within the primary motor cortex of patients with brachial plexus injury," from 2016.
The Research, Innovation and Dissemination Center for Neuromathematics (RIDC NeuroMat) has launched a web portal for the ABRAÇO initiative to provide an easy-to-go reference point for updated, reliable information on the brachial plexus injury and research associated to this injury. ABRAÇO stands for NeuroMat Action for the Brachial Plexus Injury and is led by NeuroMat PI Claudia Domingues Vargas. The web portal associated to ABRAÇO is available at: abraco.numec.prp.usp.br.
NeuroMat investigator Eva Löcherbach during a NeuroMat
general presentation
(RIDC NeuroMat/Wikimedia Commons)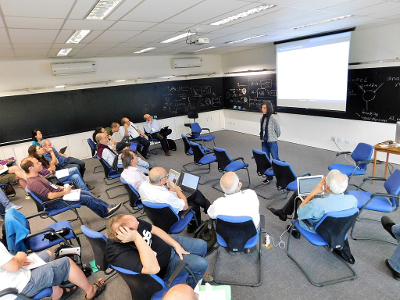 NeuroMat held from October 16 to 20 the workshop "Random Structures in the Brain," that brought together most team members for presentations and discussions on the work the center engages with and for an effort to frame and consolidate directions for the years to come. The workshop was attended by over 60 NeuroMat members, including principal and associate investigators, senior and junior researchers and students. Leonardo Cohen (NIH/NINDS) and Wojciech Szpankowski (Purdue University), from NeuroMat's international advisory board, as well as international guest speakers Markus Diesmann (Research Centre Jüllich) and William Lytton (State University of New York) took part in the event.
In the context of clinical activities of the Research, Innovation and Dissemination Center for Neuromathematics (RIDC NeuroMat), the Goalkeeper's Game appears as a potential resource for the diagnosis of Parkinson's Disease. A degenerative disorder of the nervous system, this disease affects 1% of the world population of over 65 years, according to the Association Brazil Parkinson. This work is part of the NeuroMat-led network AMPARO.