Neuroscientists perform complex experiments aiming to reach a more effective understanding about the functioning of the brain and the treatment of its pathologies. Each research laboratory uses different techniques and methodologies to produce and to analyze its findings. These experiments generate large volumes of data in diverse formats. Furthermore, with the increasing of the scale of research projects, many research laboratories are confronted with new technical (e.g. data size, quality control, analysis complexity, guaranteed reproducibility) and social (e.g. employee turnover, data sharing requirements) challenges. In addition, there is a lack of computational tools to document the experiments, to facilitate the electronic data capture, and to support reproducibility.
Stochastic models for biological neural networks. "Statiscian brain" conjecture. High-performance computing. Open-source, free softwares. New directions for early diagnosis of Parkinson's Disease. Brachial-plexus-injury initiative. Wikipedia. The Research, Innovation and Dissemination Center for Neuromathematics (RIDC NeuroMat) has released the report of activities for 2015-2017, to be assessed by the São Paulo Research Foundation (FAPESP) international evaluation committee. The report lists major achievements in the three main areas of NeuroMat —research, technology transfer, dissemination— as well as general information on the RIDC team, publication metrics and funding support.
PISA analyst Esther Carvalhaes during her talk at the
University of São Paulo,
in May (Credit: RIDC NeuroMat)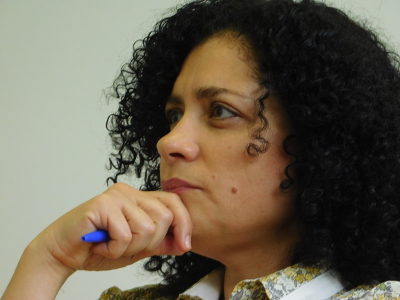 The 2015 OECD's PISA result "tells us that most students in Brazil, after spending many years in compulsory education, are unable to make use of mathematics concepts and procedures to perform even basic operations and solve very simple problems." PISA stands for Program for International Student Assessment, a study to assess the performance of 15-year-old students in various countries on three academic areas: reading, mathematics and science. The recently published 2015 assessment has indicated that Brazil "was well below the average performance of students in the developed world in all three areas tested."
The RIDC NeuroMat currently hosts five projects to disseminate science, funded by FAPESP. These projects focus on many aspects of how to develop a media strategy for improving science communication: collaborative technologies, transmedia, interactions between specialists and interested audiences, training of science journalists.